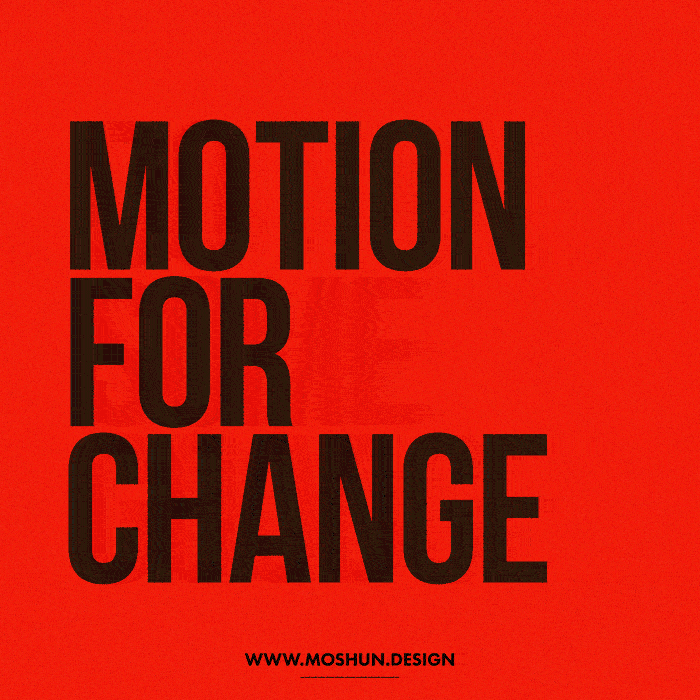 Awesome gifs, lovingly crafted by the industry's top talent.
What we do.
Motion For Change is a collaborative project intended to be a force for good within the creative industry. Our talented network of animators, designers and motion artists craft incredible gif's for brands and businesses around the world. With all our profits going to charity.
100% of our profits go to charity.
Smash the button to get giffy.
FAQ
How does it work? +
• Hit the button and send us a quick summary of your brief.
• We'll get in touch to work out the details and provide a quote.
• Receive your animated gif and set your social feed on fire!
What the heck is a gif? +
In the most boring terms possible a GIF is a Graphics Interchange Format. But that doesn't help. Urban Dictionary explains GIF as, "a form of computer image that moves as an animation, because it consists of frames, like a movie with no sound".
• They effectively act as an intermediary stage between still images and movies at a greatly reduced cost and size.
• They have become the go-to feature for brands seeking better social-media engagement.
• They're perfect for implementing a message into the minds of the consumers.
How much does it cost? +
Once we receive your brief we'll get in touch with an accurate quote for the work outlined. Our pricing structure is designed to be as transparent as possible so we'll update you every step of the way. Don't forget though, this is all for a good cause so it's not peanuts!
Can I make amends to my animation? +
Absolutely but it may affect the original price we quoted for. Each gif includes 1 round of amends unless otherwise agreed. Anything beyond that is up for discussion... we're here to get you what you need at the end of the day.
How long will it take to receive my animation? +
We process our gifs as quickly as possible but good things take time so don't expect any rush work here! If you have a priority or simply want an update you can get in touch and we'll happily chat you through the process.
Can I have a chat? +
Of course! you can contact us on dosomegood@motionforchange.com or by clicking one of the buttons and filling in a form.
Motion For Change is proudly supported by a community
of talented designers from around the world.